Uruguay is a country located strategically between two large countries such as Argentina and Brazil.
Uruguay enjoys a bonanza that began in the year 2003. At that time, the country began to emerge from the deepest crisis in its history, driven in part by the crisis that affected Argentina in 2002.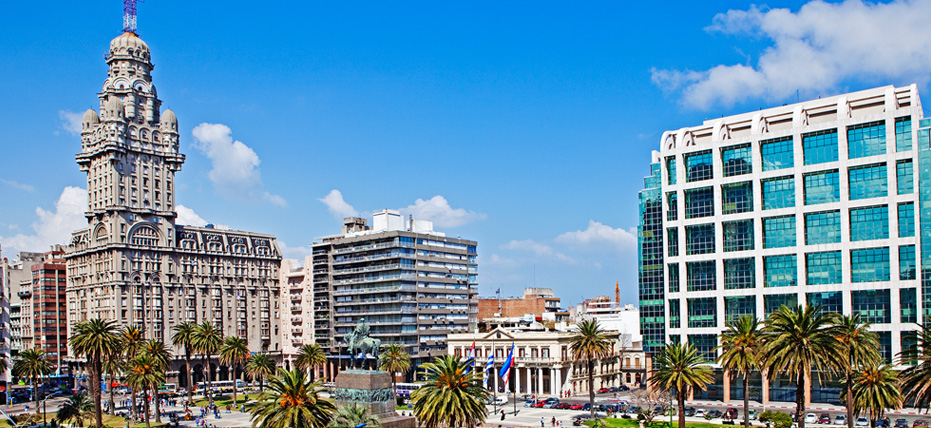 Montevideo, Uruguay. Click to Enlarge
From that moment, Uruguay began to receive European investment, mainly from Spain.
That happened because of the prosperity in Spain and the facility there to obtain credits. However, the Spanish investors sensed a slowdown in its economy and decided to diversify their investments and reinvested part of their earnings in Uruguay.
Thus began to Uruguay, the
most important
economic
cycle in its history
. This cycle, continuing to date and
Uruguay becomes a new pole of investment
.
This was possible thanks to:
the democratic stability of the country

the juridical safety

the bank secret

the egalitarian treatment to not residents

to be a very amicable and familiar people

to share the language and the roots with Spain
Foreign investment noted that it had a lot to develop in our historic center, in our coastal neighborhood of Montevideo, in our beautiful resort of Punta del Este, and our Uruguayan countryside.
Punta del Este, Uruguay
It also noted that
it could do so with values (in dollars) substantially smaller than the values (in euro) required to invest in Europe
.
The economic cycle continues and increases with the entrance of greats investments of
argentinians
. In Uruguay it is strengthened, obtained large profits and an important expectation of growth.
Around the year 2006 appears the housing bubble in Spain and two years later arises the financial crisis in the United States.UU. that it affect the global economy. However, Uruguay is favored by investors looking for a safe place to invest their money in tangible goods and
strong economies.
Despite the difficulties,
Uruguay has complied with international commitments
and has proven to be a serious country and we have been growing at a rate of 7% annual average.
In summary, we believe that 2012 will be extremely attractive to invest in Uruguay. We estimate that will consolidate a lot of productive projects, real estate, infrastructure, and services. They
generate profits in contrast to the rest of the world
.
Autor: Ing. Civil Isidoro Kosak




Director of Real Estate Investment Kosak, a founding member of the Uruguayan Chamber of Real Estate with 35 years of experience in advising foreign investors.




Kosak Uruguay is present in:
Montevideo: Pocitos, Carrasco, Ciudad Vieja y Ciudad de la Costa

Punta del Este

Colonia

Buenos Aires (Argentina)
Miami (Estados Unidos)
See our Investor´s Virtual Assistance / Asesora Virtual
Source:
Isidoro Kosak
Kosak Real Estate Investments